Vermont Irrigation:
We specialize in custom designed automatic sprinklers for commercial, residential, and garden applications. Our installation will include precisely positioned sprinklers,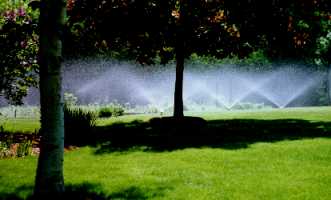 ensuring "head to head" coverage that guarantees even water distribution over your entire lawn.
The addition of our industry-grade sprinklers will increase your property value. Watering of your lawn or garden will be accomplished on a schedule that grass or plants thrive on, even if you are away on vacation.
A lush, green lawn and lively garden add beauty and value to your home. But giving your lawn proper maintenance, especially watering, can be a time-consuming chore. That's why automatic sprinklers are so popular. Our applications apply water precisely and in just the right amount. You'll never again be concerned about watering your lawn or garden, eespecially when you are away from home.
We want you to be happy with the beautiful results we can help you achieve with your lawn or garden.
Contact us and we can arrange for an estimate.